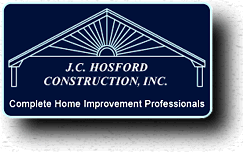 About Us
J.C. Hosford Construction, Inc. is a full-line remodeling company, founded on the principles of high standards and total professionalism. Our objective is to provide top-quality workmanship, using the best materials, while delivering at competitive prices. We do so in partnership with courteous service and with the utmost respect to our clients.

We are well into our second decade of business and have been maturing as a well-known remodeling company, while also growing in the business of custom home building. Each year that passes offers new challenges, which we are always anxious to take on. As we continue to develop and grow, and with each new project, our company maturity increases and our experience constantly expands.

You will find that we are quite flexible and very accomodating. Almost every aspect of our remodeling can be customized to fit your needs, your wishes, and your budgets. We are always available for questions and concerns that any client may have regarding the undertaking of their projects, no matter how large or how small.

We look forward to meeting and working with you.

Joseph C. Hosford, President
J.C. Hosford Construction, Inc.
---
© 1999-2002.
All Rights Reserved.